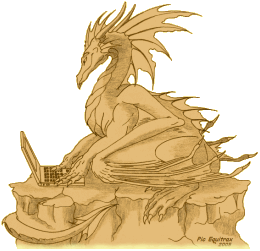 Welcome to Draci.Info!
The home of Dragons, Dracologists and Dragon friends.
What does Draci.info offer?
In this Dragon resource centre you will find lots of information based upon historical recordings (historical Dragon depictions, Dracological articles including legends and modern theories and so on). There is also a growing database of Dragon books, films, games and other interesting Dragon pieces from our member's own collections. Moreover, we have a large gallery where you can find our member's artwork (pictures&texts) as well as pictures of some other authors.
Are you really interested in Dragons? Then you should try to register and become our member ;)
Who are Draci.Info members?
This portal is designed for Dragons and their true admirers ;)
What are the advantages of membership?
As our member you will have the opportunity to share your opinions and participate in our discussions. You could also submit your own artwork and photos of your own Dragon collection pieces or take part in further developments of our portal such as writing reviews on Dragon books, films and games. And finally, Dragons will have a chance to join our Roleplay.
---
Novinky: